Supporters and Donors
Montreal Irish Monument Park Foundation
Support for the Montreal Irish Monument Park Foundation and its project of building a world-class memorial space at the site of the Black Rock in Montreal, Quebec, Canada will come from many and varied sources.
First of all, the entire Montreal Irish community, as represented by all the societies, associations, groups and charities of Montreal, is fully supportive of the project (see Letters of Support). Those that are able to do so are also contributing financially. They are listed here.
There are also full Partners who have made significant if not extraordinary financial and in-kind contributions and they are also identified here.
We wish to thank the foundations, charities, companies and individuals listed below who have made much needed donations to the Park Foundation in the early stages of our work.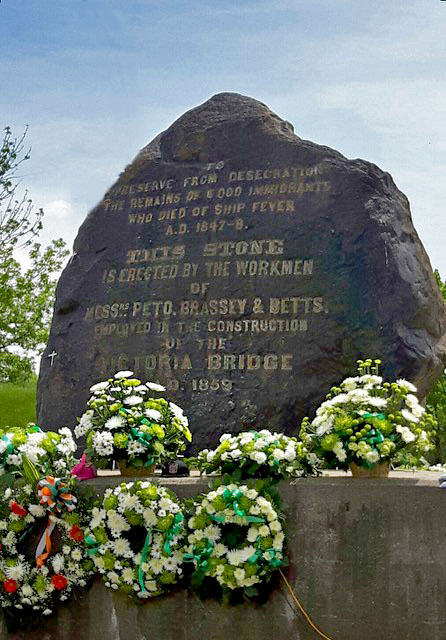 Our first and most immediate goal is to raise one million dollars as a community contribution to the project.
As we begin the main body of our fundraising efforts, we fully expect the engage the support of all levels of government in Montreal, Quebec and Canada. We also hope for recognition and support from Ireland and from the Irish diaspora internationally.
Over the coming months and years, we will be energetically soliciting many corporations, foundations, charities, and individuals locally, nationally and internationally for their involvement, financial support and partnership in this legacy project.
We need more champions from all walks of life to make this dream a reality.
Will you support our project?  Click here to go to Donations
Silver Level ($10-$2499)
Friends of the Black Rock Project
Friends of Sinn Fein
Howick Foundation
Knights of Columbus
4 Origins Brasserie
Victor Boyle
Alexandre Charbonneau
Michael Collins
Judith Cooper
Joan Crossley
Donna David-Millward
Lynn Doyle
Peggie Hopkins
Fergus Keyes
Shelley Lunney
Cindy Moyan
Glen Murphy
Ed O'Shaughnessy
Scott Phelan
Eva Tsakonas
Irene Woods
Richard R. Pvyes
William Flock
Tracey Beaton
Daniel Cambridge
Gold Level ($2500-$9999)
Donors to the Black Rock Project
Platinum Level ($10000-$49999)
Sponsors of the Black Rock Project
Pillars Trust Fund
The Irish Protestant Benevolent Society
The United Irish Societies of Montreal
Diamond Level ($50,000-$199,999)
Champions of the Black Rock Project
Sazerac Company
Partner Level ($200,000-$499,999)
Partner of the Black Rock Project
Secrétariat aux relations avec les Québécois d'expression anglaise
Senior Partner Level ($500,000+)
Senior Partner of the Black Rock Project
Hydro-Québec
La Ville de Montréal